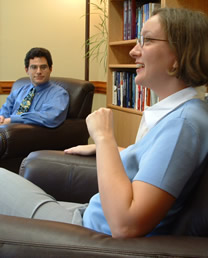 Our philosophy of care consists of a thorough, comprehensive, and considerate approach to treatment. An initial patient interview is typically 75 to 90 minutes and the follow-up plan of care is tailored to each person's individual needs and goals.
We offer psychotherapy, including analytically oriented and cognitive-behavioral therapies, in combination with judicious and evidence-based use of medications when deemed appropriate. We strive to offer a more comprehensive model of patient care that moves away from "split treatment" situations that have arisen frequently in the age of managed care, a model where the individual's needs for psychotherapy and/or medications are met in an integrated way.
If you believe this approach to care may be of benefit to you, please explore our site and our individual profiles for further background and contact information.